PlasticsEurope jest stowarzyszeniem reprezentującym producentów tworzyw sztucznych działających w Europie. Europejski przemysł tworzyw jest bardzo dynamicznym sektorem gospodarki przyczyniającym się do podwyższenia standardu życia poprzez upowszechnianie innowacyjnych rozwiązań, umożliwienie efektywnego wykorzystania zasobów naturalnych oraz ochrony klimatu.
Obok producentów polimerów – reprezentowanych przez PlasticsEurope, przemysł tworzyw sztucznych obejmuje również przetwórców – reprezentowanych przez European Plastics Converters (EuPC), recyklerów reprezentowanych przez European Plastics Recyclers (PRE) oraz producentów maszyn – reprezentowanych przez European Plastics and Rubber Machinery (EUROMAP).
PlasticsEurope – jedno z wiodących stowarzyszeń branżowych w Europie
PlasticsEurope jest jednym z czołowych europejskich stowarzyszeń branżowych, którego centra zlokalizowane są w Brukseli, Frankfurcie, Londynie, Madrycie, Mediolanie i Paryżu. PlasticsEurope utrzymuje ścisłą współpracę z krajowymi stowarzyszeniami związanymi z przemysłem tworzyw, działającymi zarówno w Europie jaki i na świecie. W stowarzyszeniu zrzeszonych jest ponad 100 firm członkowskich, których łączny udział w produkcji wszystkich polimerów wytwarzanych w krajach Unii Europejskiej (EU27), a także w Norwegii, Szwajcarii, Turcji i Wielkiej Brytanii, wynosi powyżej 90%. PlasticsEurope współpracuje także na poziomie globalnym poprzez Światową Radę Przemysłu Tworzyw (World Plastics Council - WPC) oraz poprzez Światową Koalicję na rzecz Tworzyw en (Global Plastics Alliance - GPA).
PlasticsEurope zajmuje się propagowaniem licznych zalet tworzyw sztucznych. Nasza działalność polega na
utrzymywaniu kontaktów z instytucjami europejskimi i krajowymi, aby umożliwić podejmowanie decyzji w oparciu o rzetelną wiedzę na temat tworzyw sztucznych
współpracy ze wszystkimi ważnymi interesariuszami na płaszczyźnie europejskiej i krajowej (NGO, nauka, brand owner)
podkreślaniu wielu pozytywnych właściwości tworzyw sztucznych, które podczas ich całego cyklu życia przyczyniają się do lepszego funkcjonowania społeczeństwa
udostępnianiu materiałów informacyjnych i edukacyjnych, służących zwiększeniu wiedzy o tworzywach sztucznych i wyjaśnianiu ewentualnych nieporozumień dotyczących tworzyw sztucznych
inicjowanie badań i wymiany informacji w celu zwiększenia świadomości na temat pozytywnego wpływu tworzyw sztucznych na zrównoważony rozwój, innowacyjność i jakość życia
Struktura organizacyjna

Najwyższym gremium decyzyjnym PlasticsEurope jest Walne Zgromadzenie (General Assembly) członków stowarzyszenia. Komitet Sterujący (Steering Board) nadzoruje pracę Dyrektora Zarządzającego (Managing Director) i Zespołu Liderów (Leadership Team) w sprawach dotyczących strategii, budżetu i zasad działania. Komitet Sterujący wspierają Regionalne Rady Doradcze (Regional Advisory Boards (RAB)), Komitety ds. Advocacy i Komunikacji (Advocacy and Communications Committees) oraz trzy Rady Strategiczne (Strategic Councils), zarządzane przez dyrektorów, w skład których wchodzą przedstawiciele firm członkowskich.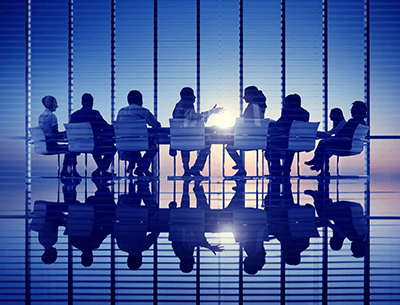 Zespół Liderów tworzą: Dyrektor Zarządzający, dyrektorzy poszczególnych pionów i Dyrektorzy Regionalni (Regional Directors). Zespół Liderów nakreśla strategię, opracowuje i kieruje projektami oraz zapewnia ich skuteczną realizację.
W Komitecie Sterującym zasiadają wysokiego szczebla menedżerowie reprezentujący firmy członkowskie PlasticsEurope wybierani co trzy lata (z możliwością przedłużenia kadencji). Obecnie prezesem Komitetu jest Markus Steilemann, COVESTRO, funkcję wiceprezesa piastuje Rob Ingram, INEOS, Benny Mermans, CHEVRON i Richard Roudeix, LYONDELLBASELL, zaś skarbnikiem jest Richard Mayo, DUPONT. Zobacz listę członków Komitetu Sterującego

Rady Strategiczne (Strategic Councils):
Nadzorują i ustalają strategię oraz priorytety działania w kluczowych obszarach:

Produkcja a klimat (Climate and Production)
Wykorzystanie tworzyw zgodnie z zasadami zrównoważonego rozwoju (Sustainable Use of Plastics)
Tworzywa w obiegu zamkniętym (End-of-life and Circularity)

Opracowują rekomendacje dotyczące strategii działania
Ustalają propozycję budżetu
Powołują i rozwiązują Grupy Robocze niezbędne do wykonania założonych celów w ramach ustalonego budżetu
Regionalne Grupy Doradcze (RAB), którym przewodzą członkowie Komitetu Sterującego z danego regionu:
Wprowadzają w regionie strategię i cele
Wspierają Grupy Produktowe
Proponują, zatwierdzają i wprowadzają budżet na działania w danym regionie
Regionalne Rady Doradcze (RAB) odpowiadają za należyte uwzględnienie specyficznych warunków i potrzeb występujących w konkretnych krajach
Grupy Produktowe, nadzorowane przez członków Komitetu Sterującego:
Raportują działalność w ramach ustalonej strategii i priorytetów do Rady Strategicznej
Podejmują zagadnienia związane z poszczególnymi grupami produktów
Ustalają i zarządzają budżetem danej Grupy Produktowej.
PlasticsEurope - kontakty Centrala w Brukseli
Biura PlasticsEurope
Skontaktuj się z nami
Skontaktuj się z nami jeśli chcesz dowiedzieć się więcej na temat korzyści wynikających ze stosowania tworzyw sztucznych oraz działalności PlasticsEurope.