60 students from across the UK debate on the role of science and sustainability in Smart Cities

At the UK edition of the 2018 European Youth Debating Competition (EYDC), an educational initiative organised by the European Petrochemical Association (EPCA) and PlasticsEurope, 60 youngsters from 13 schools and universities across Britain debated on the overarching theme "Living, learning, working and moving in Smart Cities of the future: with or without plastics and petrochemicals?"

After successful editions of the European Youth Debating Competition (EYDC, www.eydc.eu) in 2016 and 2017, EPCA and PlasticsEurope once again partnered up to organise a total of 10 debating competitions for youngsters between 16 and 19 years old in Europe, held between April and October 2018. So far more than 400 students have already participated in seven National Finals in Germany, Spain, Croatia, Bulgaria, Italy, Poland and Benelux.

The British debate took place in London on 16th July 2018 and will be followed by the French National Finals in Paris on 21st September 2018.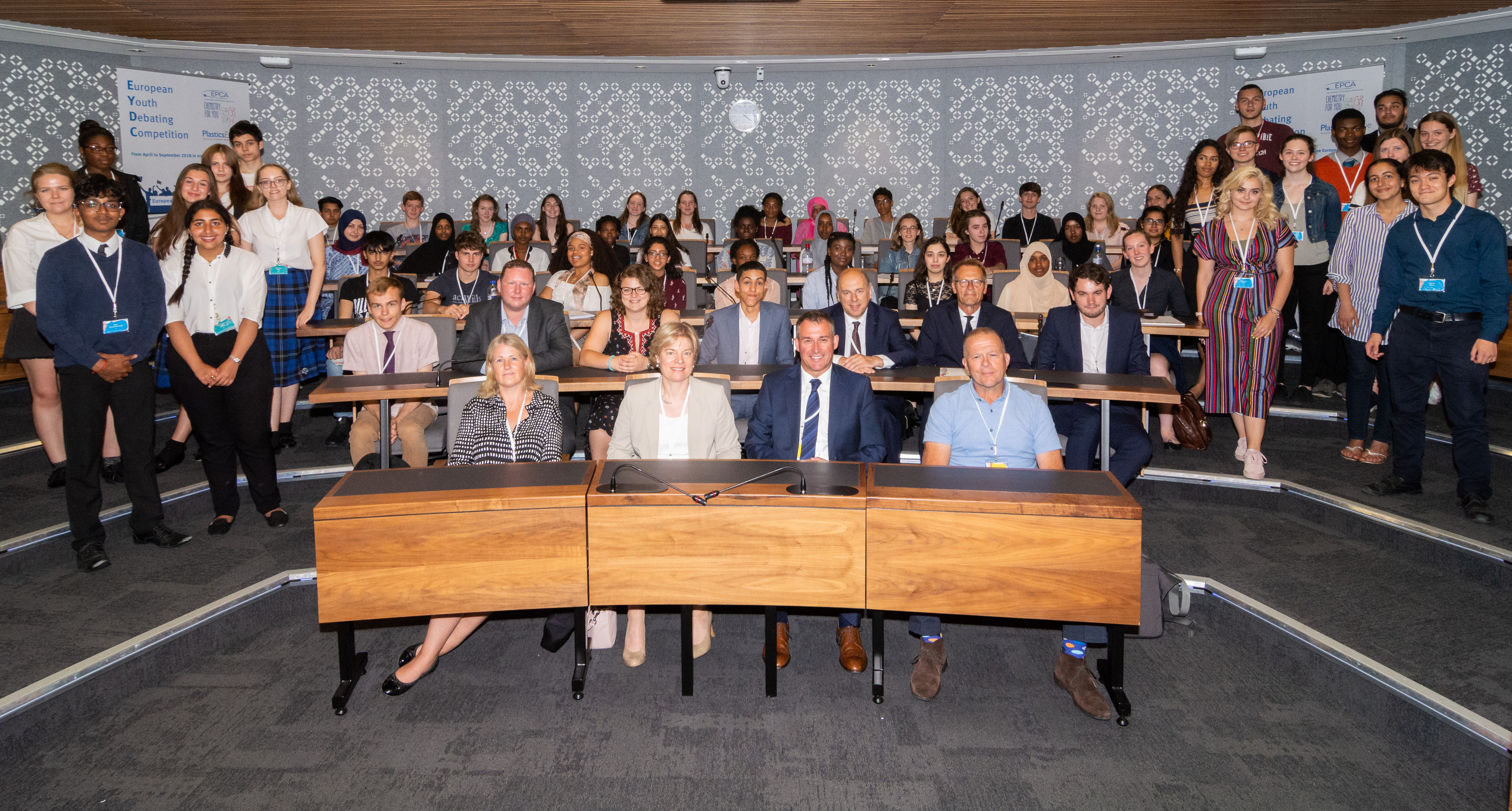 Ultimately, three young debaters won and were selected to represent the UK at the European Finals to be held in Vienna from 7-10 October, during the 52nd EPCA Annual Meeting, the largest gathering of the global Petrochemical Business Community in Europe. They are: Huda Ashur from Blessed William Howard Catholic High School in Stafford, Henry Galano from Highlands School, Grange Park in Enfield and Madigan Copley from Durham University.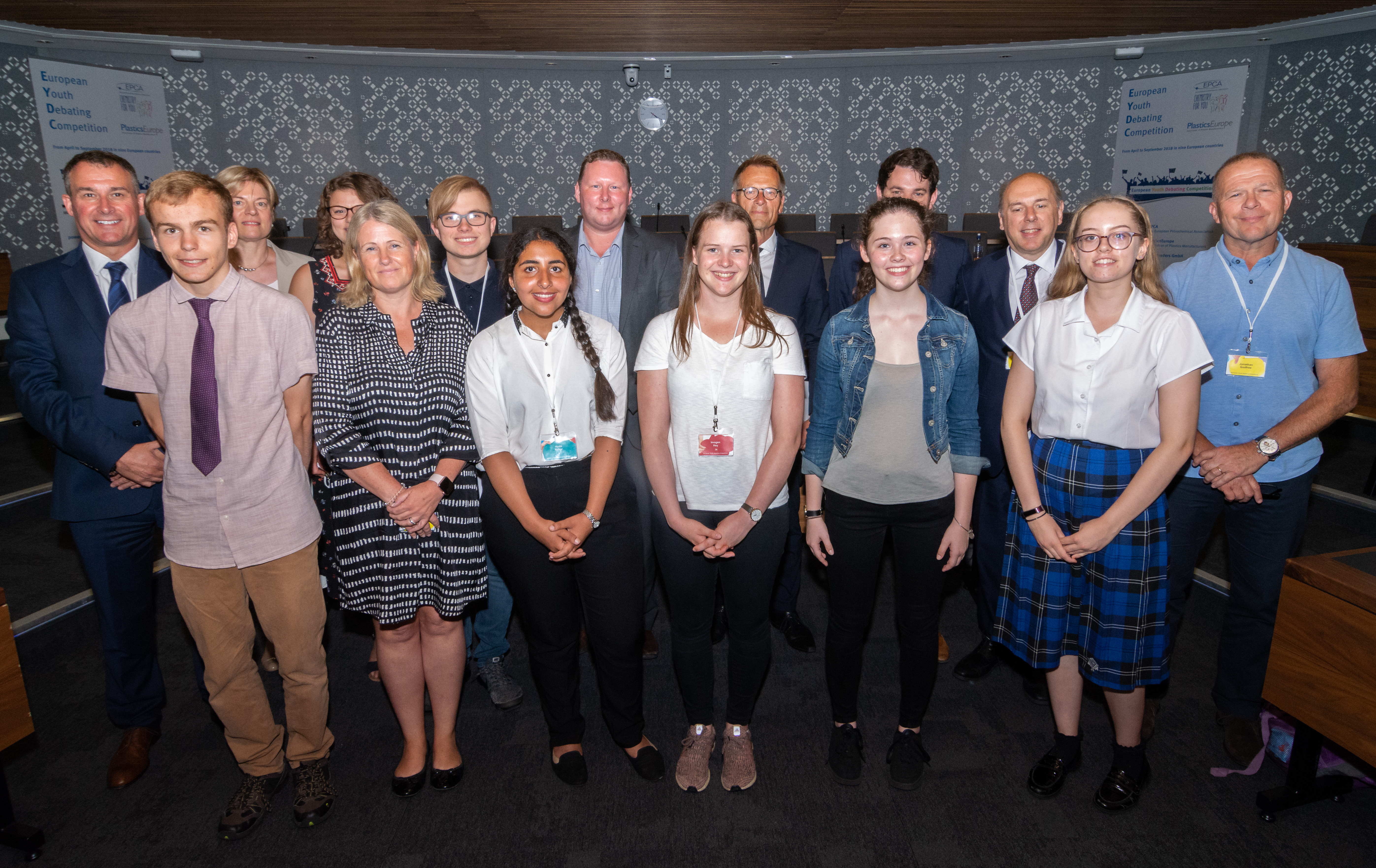 Mark Williams, Vice President Europe at SABIC was impressed at the outcome of the competition, stating: "Today, the young debaters demonstrated their ability to debate. Beyond promoting STEM Education, our aim is to empower them with soft skills that will help them to interact in a fast changing world." Mr Williams, who is also Vice President of the EPCA Board of Directors and Board Member of PlasticsEurope, continued, "this competition is a unique opportunity for students to directly enter into debate with industry and for us to connect with the new generation, listen and learn about how they see the future."

Rachel Owen, Head of Communications EMLA at Covestro, who was in the EYDC jury commented: "The overall standard of debate was really exceptional and I thought the students' ability to articulate their views on how plastics should be used in smart cities of the future, was well balanced." She continued, stating that "These young people are our future, so it's critical we continue to support and nurture STEM education to ensure the future sustainability of our industry."

Kim Christiansen, North Region Director at PlasticsEurope, was greatly encouraged by the young debaters, stating that "I'm absolutely delighted that the petrochemical and plastics industries continue to support the EYDC project. Once more we find ourselves in front of a young, energetic and diverse group of students ready to step in and solve the world's most critical issues. All jury members enjoyed this experience and were impressed by the level of maturity and enthusiasm of the young debaters."

Background
The main objectives of the European Youth Debating Competition and its organisers from the petrochemical and plastics industry are to promote STEM education (Science, Technology, Engineering and Mathematics) as well as to inform about sustainability and resource efficiency, all of them being key ingredients for the future of both industry sectors and the overall competitiveness of the European Union. To reach this, EPCA and PlasticsEurope have launched this new series of the European Youth Debating Competition (www.eydc.eu) targeting young students aged 16 to 19 hosted in nine EU countries.
Media Contacts
EPCA AISBL
Nathalie Debuyst, Communication and Education Manager
Phone: +32 (2) 741 86 66
nathalie.debuyst@epca.eu

PlasticsEurope AISBL
Wolfgang lange, Senior Communications Manager
Phone +32 (2) 676 17 33
wolfgang.lange@plasticseurope.org

The European Petrochemical Association (EPCA)
Based in Brussels, EPCA is the primary European Business Network for the global petrochemical business community consisting of chemical producers, their suppliers, customers and service providers. It operates for and through more than 700-member companies from 54 different countries. EPCA organises conferences and events in Europe offering members all over the world the opportunity to meet industry leaders and selected external stakeholders and stay abreast of international market developments as well as technological and societal trends. EPCA also supports members on specific topics that underpin the sustainable development of the global petrochemical industry. EPCA promotes STEM education, with a clear focus on gender and diversity inclusion. EPCA also highlight the multidisciplinary approach and the variety of challenging career paths that the petrochemical industry offers.

PlasticsEurope is one of the leading European trade associations with centres in Brussels, Frankfurt, London, Madrid, Milan and Paris. The association is networking with European and national plastics associations and has more than 100-member companies, producing over 90% of all polymers across the EU28 member states plus Norway, Switzerland and Turkey.