Planning your journey to PlasticsEurope offices:

Rue Belliard 40, box 16, floor 9 - 1040 Brussels - Belgium
Phone: +32 (0) 2 792 30 99

How to reach us
---
Coming By train, Bus or Metro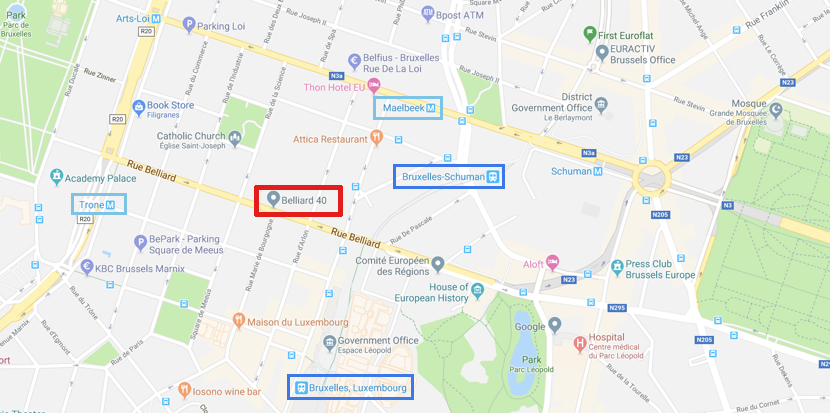 City express train every 15 minutes from the airport to Brussels Central Station
Bus:

Trèves/Trier stop: lines 21, 27, 64
Science/Wetenschap stop: lines 27, 34, 38, 64, 80, 95
Brussels Airport Zaventem: from Monday to Friday until 8 PM: bus 12 and after 8 PM: bus 21
Both Luxembourg and Schuman railway stations are always covered.

Metro:

Trône/Troon (Montoyer exit) – B40: 5-minute walk
Maelbeek/Maalbeek – B40: 6-minute walk
Arts-Loi – B40: 8-minute walk (via Avenue des Arts/Rue Guimard Straat)

For any further information on metro/tram/buses, please visit STIB/MIVB website.
For any further information on railways, please visit SNCB/NMBS website.
A useful tool is also available to understand what is the best solution for you:
http://www.belgianrail.be/en/travel-tickets/which-is-the-right-ticket-for-me.aspx
Coming By Taxi

From/to Brussels Airport Zaventem: +/- 10 min (or up to 20 min drive depending on the traffic).
Check the traffic on Google Maps. The price is ~40€.
From/to Gare Central/Centraal Station: ~10€
From/to Gare du Midi/Zuid Station: ~15€

Coming By Car

Since January 1st 2018 the Brussels-Capital Region has become a Low Emission Zone (LEZ).
If you are entering the city in a car or van, you should check whether you are allowed to drive your vehicle within the LEZ at this link: https://lez.brussels/en

Moreover, since January 2019, all cars registered abroad that enter Brussels do need to register in the LEZ database: https://lez.brussels/en/content/registration.

This is important to note for our members who visit us by car.
The registration request is free of charge and must be completed before the visit.
The registration is valid for 3 years as long as the information regarding the vehicle doesn't change.
Public parkings available nearby:

Click on the links to see the route on Google Maps.
BePark Sciences 37 (Rue J. de Lalaing 1) – B40 : 2 minutes on foot > Please book your spot with your PlasticsEurope contact person.
Parking Industrie (Rue de l'Industrie/Nijverheidsstraat , 26-38) – B40 : 2 minutes on foot
Parking Belliard (Rue du Commerce/Handelsstraat, 50) – B40 : 3 minutes on foot
Parking Square de Meeûs (Rue du Commerce/Handelsstraat, 31) – B40 : 5 minutes on foot
Parking Bruxelles Trône (Avenue des Arts/Kunstlaan, 53) – B40 : 6 minutes on foot
Parking Loi (Rue de la Loi/Wetstraat, 19) – B40 : 7 minutes on foot
Another option: P+R formula (Park + Ride):

Parking your car outside of the centre and then using the public transportation:
https://parkandride.brussels/page/content/find_out_more

Further information can be found in French and Dutch: https://parking.brussels/fr/smart-parking
Contact us for more information
Contact us for more information about plastics and the activities of PlasticsEurope.