EPCA and PlasticsEurope bring youngsters together to debate on People, Planet and Profit in the Digital Age

From over 400 students who took part in the 2017 European Youth Debating Competition (EYDC), ten students were selected as the winners of the competition by a group of jurors selected amongst representatives of industry, media, NGO's, international organization, lecturers, experts, members of the EPCA Board of Directors, YETT (Young EPCA Think Tank) and PlasticsEurope. The award ceremony took place in Berlin, Germany, on 3rd of October 2017 during the 51st EPCA Annual Meeting, the largest gathering of the global chemical business community in Europe. Throughout the competition students had the opportunity to discuss and debate the theme: "People, Planet, Profit in the Digital age: With or without petrochemistry and plastics?"

The EYDC was organized in 7 EU Member States (France, Germany, Italy, the Netherlands, Poland, Spain, and the United Kingdom), between May and September 2017. Following the National Finals, a passionate debate took place in Berlin amongst the national winners at the European Finals.

During the closing ceremony, Ban Ki-moon, Secretary General of the UN (2007-2016) and Tom Crotty, Director of INEOS Group and President of EPCA presented the prizes to the top five winners of the EYDC 2017. They were:

1. Ms Ilsu ARI, Lycée International des Pontonniers, Strasbourg, France.
2. Mr Daniel TERNE S, Bischöfliches Cusanus Gymnasium, Koblenz, Germany.
3. Ms Kalina SPŁAWSKA, XIV LO im. Stanisława Staszica, Warszawa, Poland.
4. Ms Ahlam OULADALI, Institut F. Vidal i Barraquer Tarragona, Tarragona, Spain.
5. Mr Nick KRÜGER, Internationale Deutsche Schule Paris, Paris, France.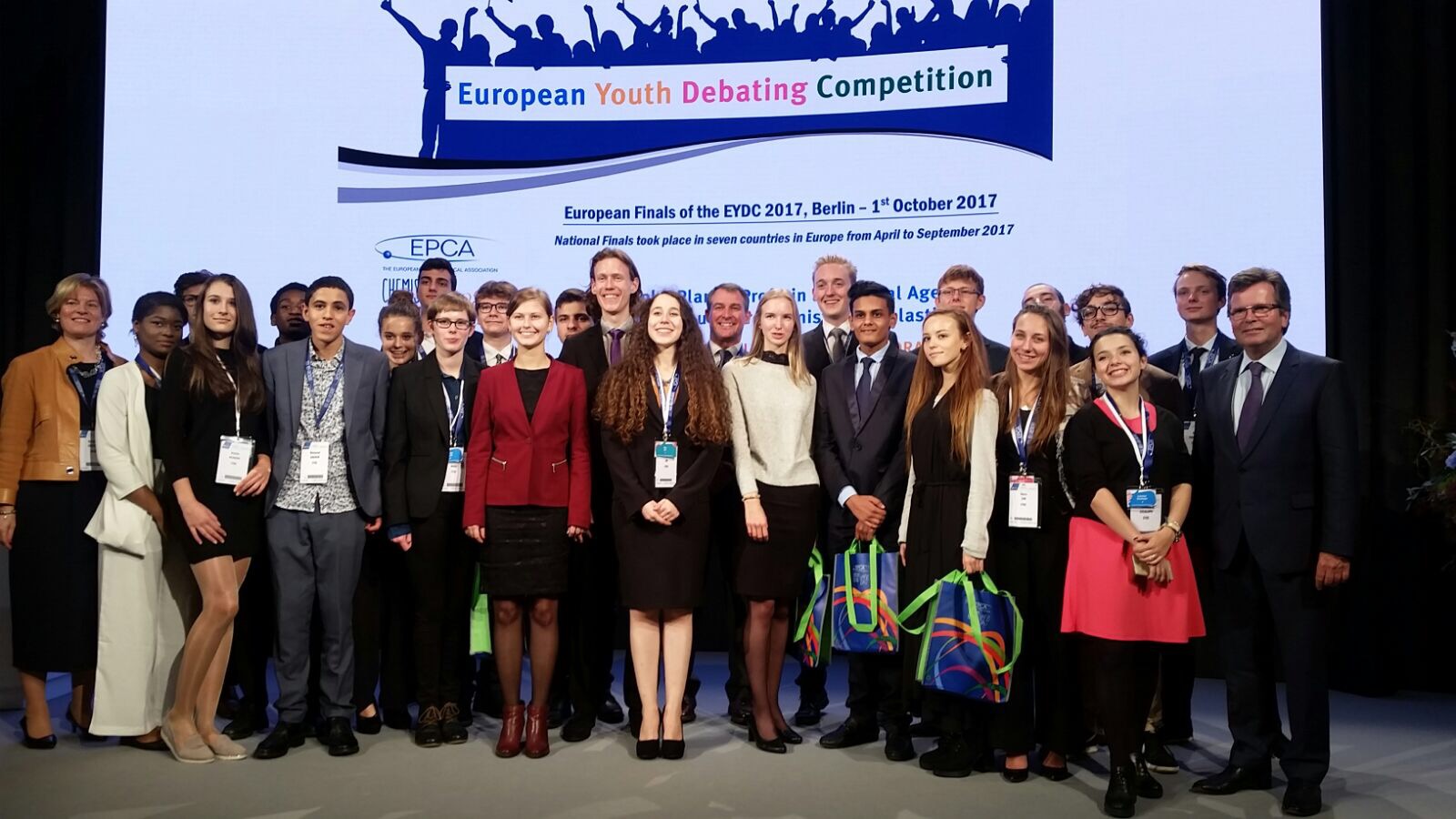 The five other winners (see list of winners) were awarded by Karl-H Foerster, Executive Director of PlasticsEurope and Caroline Ciuciu, CEO of EPCA who said: "This competition is a unique opportunity for students of a generation of digital natives to further explore the links between our society's development, sciences and the petrochemical industry. In addition, in a fast changing and sometimes divisive environment, this debating competition offers youngsters the chance to interact with each other regardless of gender, nationality and culture. Finally, for us as an industry, the EYDC is an excellent initiative to connect with a new generation, listen and learn about their views as well as their visions of our future. In a nutshell, it is a way to connect, listen, learn, collaborate for both the youngsters and our industry."

Karl-H Foerster, Executive Director of PlasticsEurope added: "This initiative was launched to promote STEM education and to show to a young generation the importance of science. Education in these fields are of crucial importance for the future of our industry and the overall competitiveness of the European Union".

Press release (PDF document)
---
About EYDC:
EPCA and PlasticsEurope have launched a new series of the European Youth Debating Competition (www.eydc.eu) targeting young students aged 16 to 19, throughout Europe. The main objectives of the European Youth Debating Competition (EYDC) and its organisers from the petrochemical and plastics industry are to promote STEM education (Science, Technology, Engineering and Mathematics), to empower students with soft skills and to encourage them to further discover and exchange on the contribution of petrochemistry and plastics in the digital age. Whilst for industry, it is an opportunity to listen to the views and expectations of the next generation of leaders. Technological dimensions of this new era with sustainable mobility, energy efficiency, smart living, societal wellbeing, are key ingredients for the future of both industry sectors and the overall competitiveness of the EU.

The European Petrochemical Association (EPCA)
Based in Brussels, EPCA is the quality network in Europe for the global chemical business community consisting of chemical producers, their suppliers, customers and service providers. It operates for and through more than 700 member companies from 54 different countries. EPCA provides a platform to meet, exchange information and transfer learning, and serves as a think tank for its members and stakeholders. EPCA promotes STEM education, with a clear focus on gender and diversity inclusion. EPCA also highlight the multidisciplinary approach and the variety of challenging career paths that the chemical industry offers.
PlasticsEurope is one of the leading European trade associations with centres in Brussels, Frankfurt, London, Madrid, Milan and Paris. The association is networking with European and national plastics associations and has more than 100 member companies, producing over 90% of all polymers across the EU28 member states plus Norway, Switzerland and Turkey.