On 5 July, EPCA (the European Petrochemical Association) and PlasticsEurope organised the British edition of the 2016 European Youth Debating Competitions (EYDC).
Supported by the British Plastics Federation (BPF), 40 youngsters actively debated the topic "50 years of chemical industry. What's next?". Three young debaters stood out and clearly dominated the debate, consequently winning the national final and securing their ticket for the EYDC grand final. This final will be held in Budapest from 1-4 October, during the 50th EPCA Annual Meeting.

40 students from different schools and universities took part at this debate, which was organised in the heart of London at the Royal Society of Chemistry's Burlington House, at Piccadilly.
Kim Christiansen, Director, North Region, PlasticsEurope, praised the students debating skills and stating that "With the challenges the world is facing today, it is important that we are all aware of the large sustainability potential of plastics and chemistry. This was a unique opportunity to engage in a dialogue with the leaders of tomorrow. I was profoundly impressed and inspired by the overall level of maturity and debating skills the young debaters presented today".

The jury, composed of industry, academia and media representatives, faced a difficult challenge in choosing the three winners. The three best speakers were Caroline Gakpetor (aged 17) from St Benedict's School Ealing, Noah Slinn (aged17) from Princethorpe College Rugby and Mac-Fall Ambrose (aged 17) also from St Benedict's School Ealing.
They will now join the other selected winners at the Budapest final in October. The final three debates in this cycle will be held in Belgium, France and the Netherlands, after the summer break.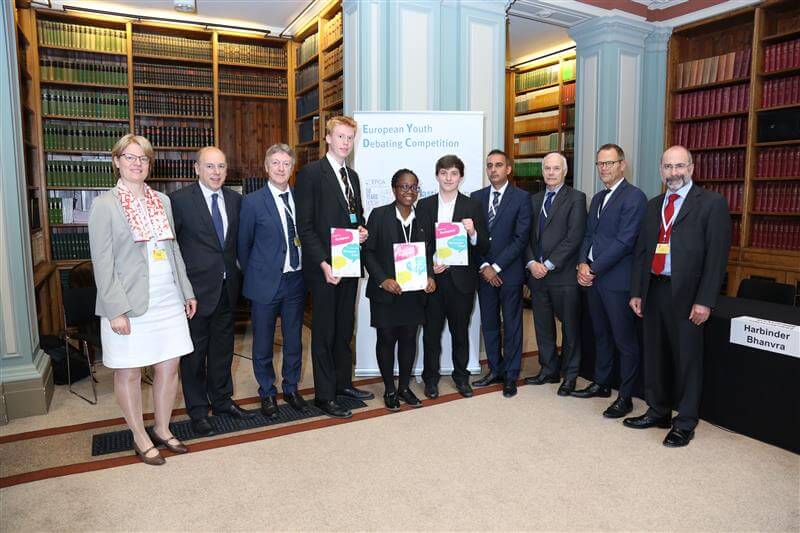 From left to right: Nathalie Debuyst, Communications and Education Manager, EPCA; Philip Law, Director General, BPF; Peter Laybourn, CEO International Synergies Limited; Mac-Fall Ambrose, student (aged 17) from St Benedict's School Ealing; Caroline Gakpetor, student (aged 17) from St Benedict's School Ealing, Noah Slinn student (aged17) from Princethorpe College Rugby; Harbinder Bhanvra, Commercial Manager Europe, Sabic; Paul Booth, PlasticsEurope Treasurer, Kim Christiansen, North Region Director, PlasticsEurope; Ian Young, Managing Editor, IHS

Background
The main objectives of the European Youth Debating Competitions and its organisers from the petrochemical and plastics industry are to promote STEM education (Science, Technology, Engineering and Mathematics) as well as to inform about sustainability and resource efficiency, all of them being key ingredients for the future of both industry sectors and the overall competitiveness of the European Union. To reach this, EPCA and PlasticsEurope have launched this new series of Debating Competitions (www.eydc.eu) targeting young students aged 16 to 19, throughout nine EU countries.