The youth debate in Poland organized on 31 May in the Business School of Warsaw Technical University; it was the fifth of 9 planned events of the European Youth Debating Competitions, organised by EPCA (the European Petrochemical Association) and PlasticsEurope. 53 students from 15 schools from Warsaw, Płock and Włocławek debated on how they imagined their future: with or without petrochemical industry and plastics? The students were welcomed by Helena Huovinen, President of PlasticsEurope Polska and vice-CEO of Basell Orlen Polyolefins, who encouraged the young people to express their views openly and make a good debate.
After hearing the expert's pro and con views, pro speaker being Piotr Kwiecień (Chairman of PlasticsEurope Polska, Managing Director of Sabic Poland) and con speaker being Dominik Dobrowolski (environmentalist and world traveller), the students debate started. From the outset it was vivid thus very balanced.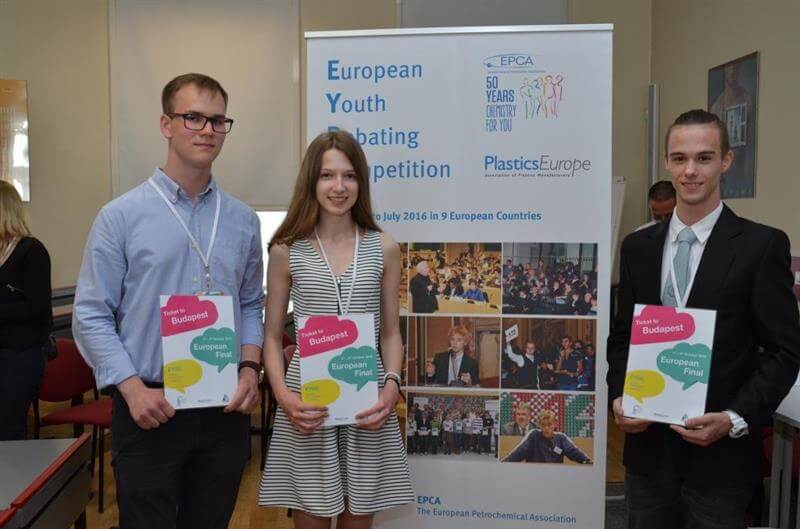 The arguments used by the students perfectly reflected their broad knowledge of the topic. The young people highlighted the positive role of plastics in different areas such as transport, building & construction, packaging or medicine but they also expressed their concerns on plastics waste and health issues. For the jury, consisting of representatives of industry, science, NGOs and media, the task of choosing the winners was not an easy one. But finally the three winners of the debate in Warsaw were chosen as follows:
1. Maksymilian Głowacki, XIV LO im. Stanisława Staszica, Warsaw
2. Aleksandra Janowska, XIV LO im. Stanisława Staszica, Warsaw
3. Maciej Obrębski, V LO im. Księcia Józefa Poniatowskiego, Warsaw
All winners won a ticket to Budapest for the grand finale debate where they will discuss with young people from eight other countries on chemicals and plastics related topics.