Plastics applications offer endless possibilities to the Olympic Games. From artificial turf, sporting attire, sport equipment, to the venues, the Rio 2016 Olympic Games show that plastics truly are the champions of the games.

The world's top hockey players are playing on the latest synthetic turf technology featured on the Deodoro Park's hockey pitches. This synthetic turf is created in a complex process where synthetic plastic fibres undergo a tufting process to produce a strong turf bind. Plastics ensure the highest playing condition regardless of the weather while providing shock absorption and durability to benefit the players and the game.

This year's Olympics athletes are competing with each other to win medals that have been produced using recycled materials, the ribbons used to hang the medals are for example made of 50% recycled plastic bottles. In water sports, lightweight and durable plastics play a crucial role. They are used to create innovative shape and styles of for example canoes, making them lightweight while providing strength to withstand the stress of the events. In 1996 the plastics industry as a consequence decided to sponsor the German Olympic canoeing team, which is consequently called "Team Kunststoff (Team Plastics)".

As for the venues, plastics lend its hand to create the Arena da Juventude (Youth Arena) that are staging the women's basketball tournament and fencing competition. The eastern and western facades of the building were constructed with PVC (plastics) composite membranes. Plastics make the structure wind resistant and thanks to its translucency, natural light can illuminate the arena. At the same time the breathable facade material allows natural ventilation of the interior spaces.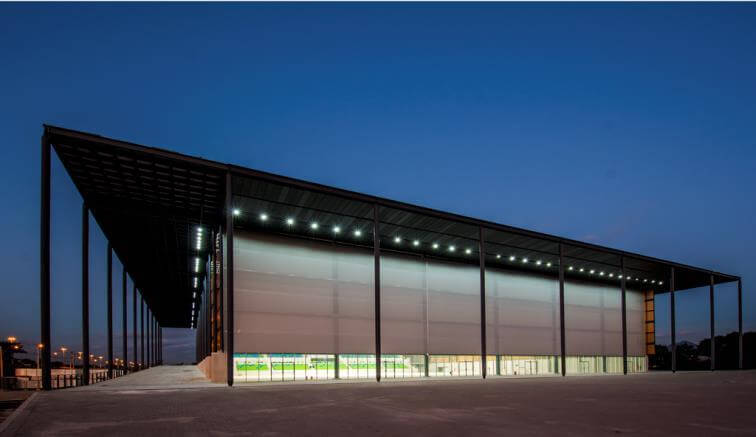 Photo: @ Celso Brando
To celebrate the games and the involvement of plastics in sports, PlasticsEurope will be launching an online quiz. Check out our section "plastics in sports" and participate in the quiz, you may win either a sports bag, sustainable water bottle, or a fit band sponsored by Dow.