On 29 September, PlasticsEurope, in partnership with viEUws, participated in a TV live panel debate on the latest developments on the circular economy package. The panel debate, streamed from the TV Studio of the European Parliament, was moderated by Sonja van Renssen, environmental journalist from the Brussels scene.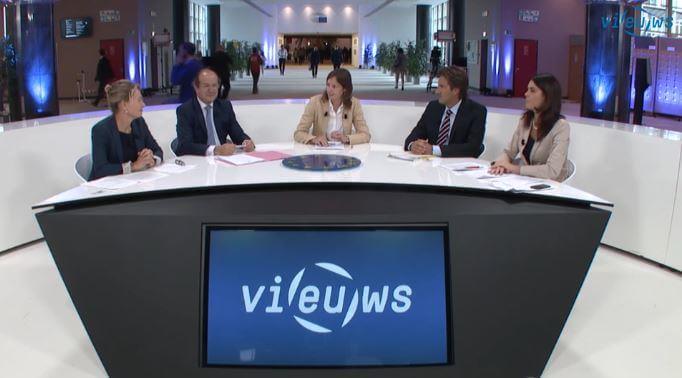 From left to right: Monica Verbeek, Daniel Calleja Crespo, Sonja Van Renssen, Daniele Ferrari and Simona Bonafe

Daniele Ferrari, CEO of Versalis and Vice President of PlasticsEurope, highlighted the role of the European plastics industry as a key player for innovation in Europe. He also said that resource efficiency and the full life cycle thinking should be part of the new package and called for a landfill ban by 2025.

During the debate, Simona Bonafe, rapporteur of the ENVI Report and member of the Committee on the Environment, Public Health and Food Safety of the European Parliament, explained the goal of the new Economy Package as not only an environmental policy but an industrial policy. Although the Commission's proposal was in the good direction, she wanted to be more ambitious. She announced that the ENVI vote on the Circular Economy Package will most likely take place early 2017.

On the other hand, Daniel Calleja Crespo, Director-General for Environment in the European Commission, emphasised the benefits of the new package: economic, social and environmental gains. He announced the Commission's intention to release the new strategy on plastics next year. With regards to marine litter, he said a European cooperation with Asia was needed to reduce plastic waste in the oceans.

Dr. Monica Verbeek, Executive Director at Seas at Risk, stated that although there was a lot of attention on recycling, there was not as much on waste reduction. She also highlighted the need of having marine litter reduction targets through specific measures regarding the top 10 common items found on beaches.

PlasticsEurope and viEUws combined efforts to bring together different stakeholders to debate the big issues affecting the plastics industry such as marine litter, resource efficiency, full life cycle thinking and innovation, to name a few.

You can watch the full debate here.